OUR COMPANY
An ant was born with the goal of introducing into the world of home textiles an original, unique, elegant and quality product with printed fabrics rich in colours and designs. We introduce colour into each of our designs with great care, selecting the printed fabrics from Liberty Fabrics from London that most attract us and valuing how the colours interrelate.
Our products are made in CATALONIA, in a small village named Foixà, in the area of the Empordà, located to the north-east of Barcelona. In a rural setting very well connected with Barcelona and the rest of the world, in terms of both transport and technology, we design, produce and distribute all of our products. With the tranquillity and magic of our natural surroundings and the passion we feel for our work, we fill every one of our bedspreads and cushions with the energy, peace and joy that we want to convey to your everyday life, because with the rich glow of the colours and prints of each one of our pieces we make houses smile every day.
Here at An ant we design, produce and sell all of our products, because we enjoy making them and even more seeing and feeling the end result, and for this reason we want them to reach all the corners of the world. We want them to reach you whether you live next door to us or on the other side of the globe. We want to find more people around the world who will fall as deeply in love with our bedspreads and cushions as we do.
You know where to find us. Please get in touch with us to fall in love again.
ORIGINAL HOME TEXTILES
With AN ANT we want to fill houses with prints and colours, with original textiles for the home. The kitchen, the dining-room, the lounge and the bedrooms of both the parents and little ones – we dress them all in colours.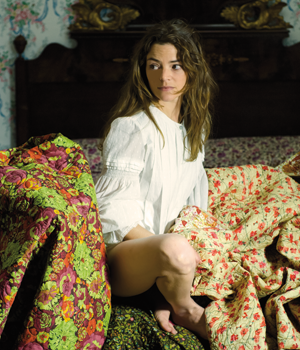 We make our products with Liberty Fabrics from London, an old company with an important history on their quality and fine printed fabrics. We like the elegance and beauty of their patterns, some are very antic. We like play with many variety of printed fabric designs. We combine them, one on each side of the piece, obtaining nice combinations. We quilt them thinking how the drawing of our sowing machine will combine on top of the fabric designs, and we choose the color of any thread depending on the color of the fabric prints too.
In order to make a complete quilt with Liberty Fabrics, we must joint two pieces of fabric together, and we do this by making the drawing of the print coincide perfectly along the seams on both sides, like this the pattern can follow its design perfectly. By carrying out this laborious task, we achieve a truly beautiful product. We work hard to create beautiful quilts.
Our products do not have a front and a back, because both sides are the front, they are reversible, making them richer and more attractive.
An ant always uses 100% cotton fabrics, so that the softness of natural fibre can be enjoyed in all of our pieces. The fillings we use in our products can be 100% cotton or 100% wool, for those who want to enjoy to the full the warmth or coolness of natural fibres, or a mixture of 80% cotton and 20% polyester, for those who want to enjoy comfort in the everyday use of their item but also want to use their domestic washing machine and dryer in full confidence, a very useful feature, for instance, in the case of a child's edspread or individual table mats.