ORIGINAL HOME TEXTILES
With AN ANT we want to fill houses with prints and colours, with original textiles for the home. The kitchen, the dining-room, the lounge and the bedrooms of both the parents and little ones – we dress them all in colours.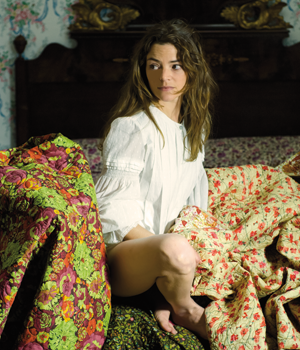 We make our products with Liberty Fabrics from London, an old company with an important history on their quality and fine printed fabrics. We like the elegance and beauty of their patterns, some are very antic. We like play with many variety of printed fabric designs. We combine them, one on each side of the piece, obtaining nice combinations. We quilt them thinking how the drawing of our sowing machine will combine on top of the fabric designs, and we choose the color of any thread depending on the color of the fabric prints too.
In order to make a complete quilt with Liberty Fabrics, we must joint two pieces of fabric together, and we do this by making the drawing of the print coincide perfectly along the seams on both sides, like this the pattern can follow its design perfectly. By carrying out this laborious task, we achieve a truly beautiful product. We work hard to create beautiful quilts.
Our products do not have a front and a back, because both sides are the front, they are reversible, making them richer and more attractive.
An ant always uses 100% cotton fabrics, so that the softness of natural fibre can be enjoyed in all of our pieces. The fillings we use in our products can be 100% cotton or 100% wool, for those who want to enjoy to the full the warmth or coolness of natural fibres, or a mixture of 80% cotton and 20% polyester, for those who want to enjoy comfort in the everyday use of their item but also want to use their domestic washing machine and dryer in full confidence, a very useful feature, for instance, in the case of a child's bedspread or individual table mats.